clarity, confidence and cash flow in 90 days
with the biz organizeher™ digital boot camp.
You're making money in your business but…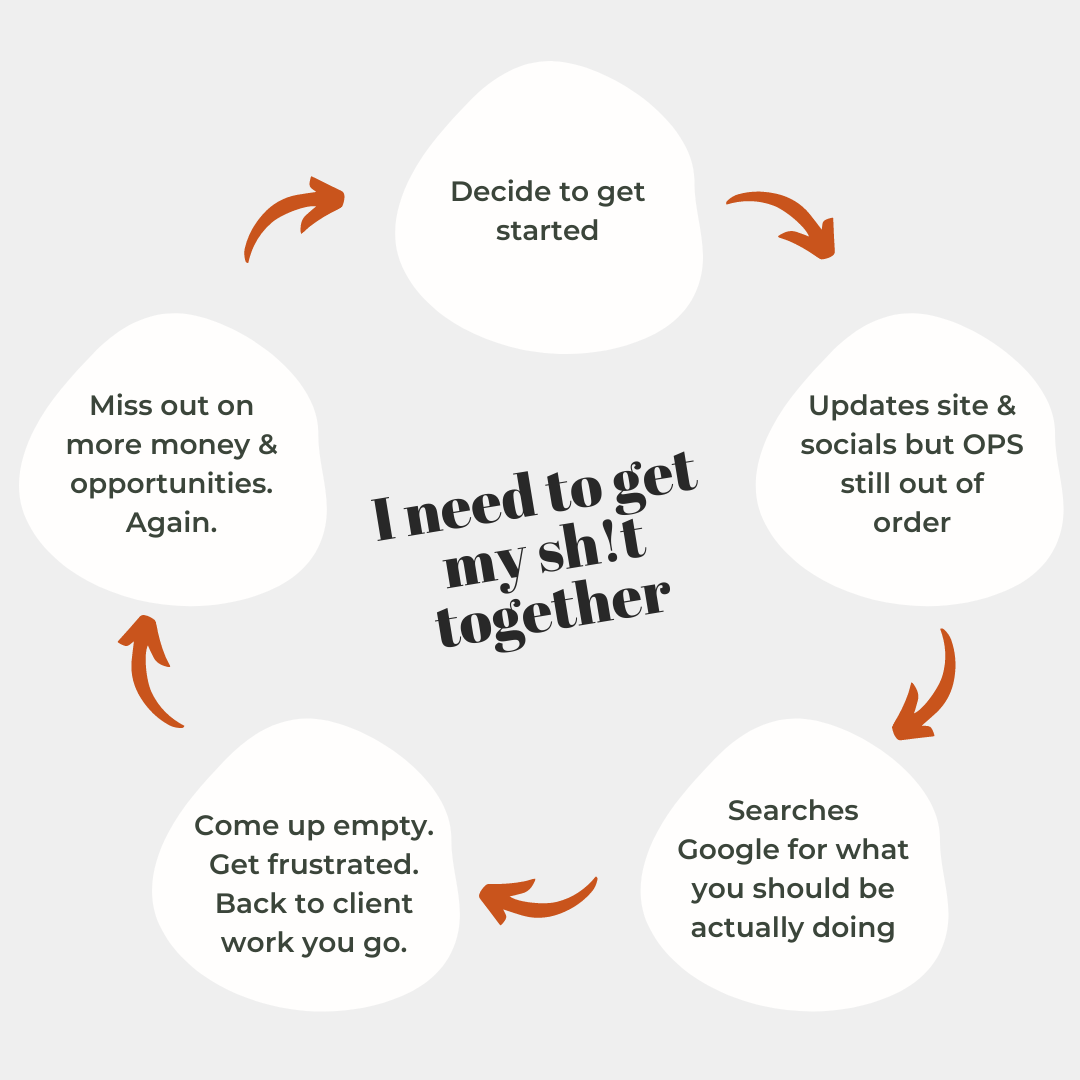 you can't remember the last time you ate a proper meal away from your computer.
You know your business has the potential to go to the next level but you've been too busy serving clients to get organized and put systems in place, even though you know you need to.
And it's starting to get in the way of your money.
Now you're stuck trying to figure out what your business needs or where to even start – going on an internet hunt and piecing together advice that doesn't fit your business or how you work.
Before you know it, the time you set aside to get it together has passed and you're back at square one…
…rushing through client work so you can piece together the admin side of your business.
Again.
Getting your biz organized changes everything.
Imagine being able to take a friend out to a weekday lunch, stress-free because you've automated the busywork and your invoices are getting paid.
Being able to work on the next level of your business because streamlining your business is giving you more headspace to breathe.
And being able to charge premium prices with confidence, knowing that your clients are getting an experience that has them feeling fully taken care of the whole way through.
All of this is possible. I can help.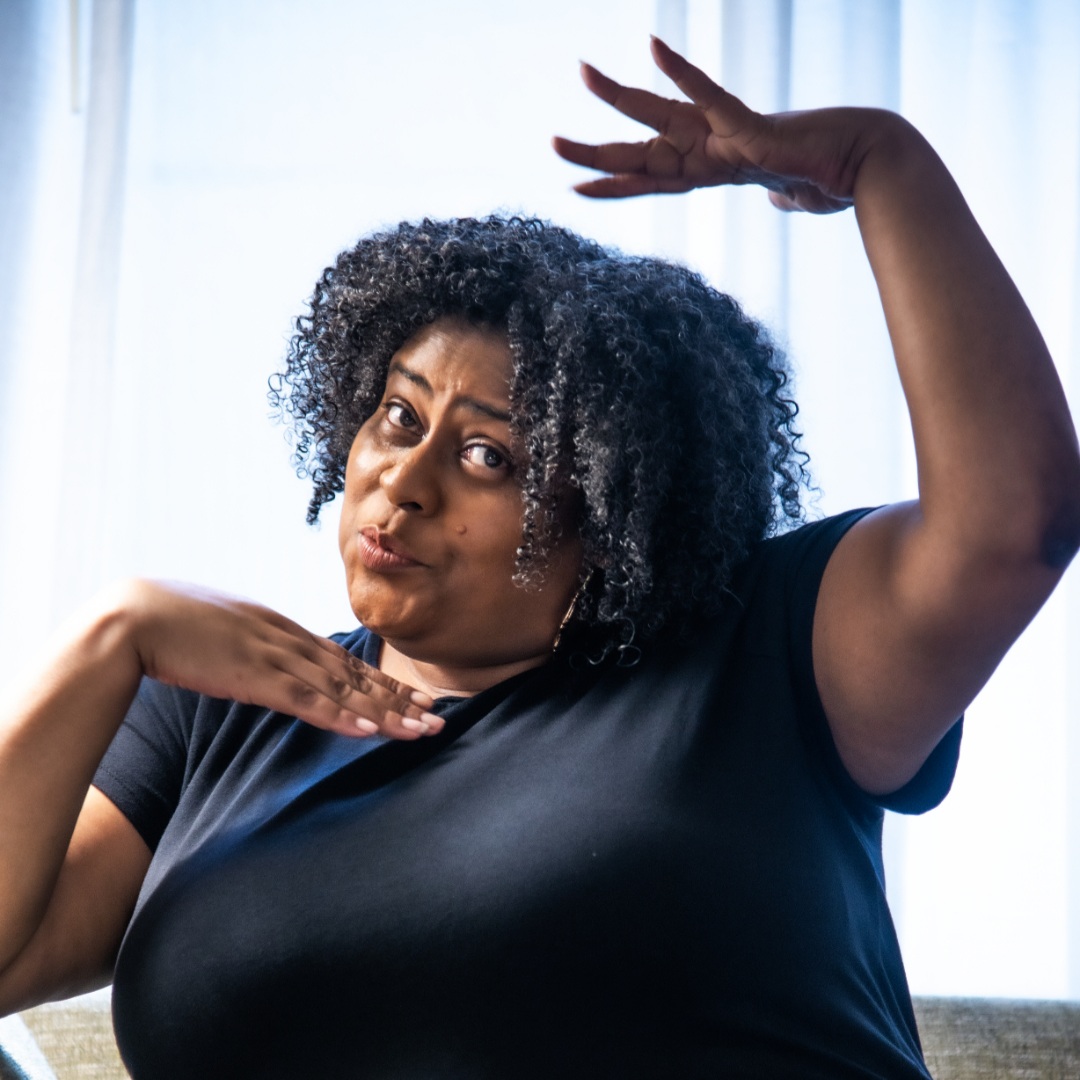 I'm Auntee Rik….
Slightly goofy woman of a certain age who specializes in getting all up in your business so your star shines brighter.
Over the last 30 years I've worked in retail, Spirits, radio, legal, finance and education. For 12 of those years I was a freelance graphic, brand and web designer.
Like your favorite aunt, I give it to you straight, no chaser, wrapped in love. And I like a little kiki.
And you'll get Hotline Access…
By joining the biz organizeher™ digital boot camp and paying in full at enrollment, you get priority Hotline Access to to me as your personal business systems advisor.
Outside of Office Hours, you'll get the chance to ask me any questions you might have about your business, your systems, or your tools.
The biggest reason most solopreneurs never get their systems together is because they get stuck sorting out processes then get pulled back into client work.
With Hotline Access, you'll have zero excuses for not completing this boot camp without having all the answers you need while getting your business together.
run your business without getting overwhelmed
reduce time spent on admin
identify new revenue streams
it's time to stop running on the hamster wheel and get you a streamlined and efficient business, while staying true to who you are at your core.
introducing the biz organizeher™ digital  boot camp
A 90 Day Program with the expert support you need to get more clarity, confidence, and cash into your business with systems tailored to you and the life you want to live.
6 Main Modules
Your Boot Camp modules are  The Vault Classroom access – 6 Main Modules
SOP Checklist
List of SOPs to work on so you don't have to worry about where to get started.
Templates
Templates to build your digital binder: canned emails, trackers, SOPs… oh my!
Office Hours
3 monthly office hours calls
In-Lesson Q&A
Have a question about a lesson? Ask right there.
bonus: Dubsado
Once we've worked out your Plan and Processes we can get you set up and automated in Dubsado.
$1,200
or 3 payments of $450 each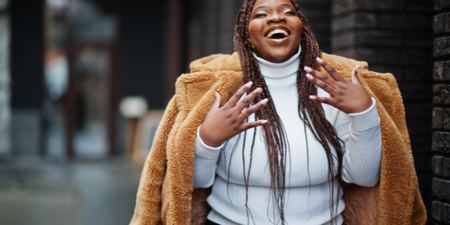 Your Self
Call it self-awareness, mindset, self care, or something else, not only do you have to take care of yourself, you should be documenting and keeping note of certain things that are important to you.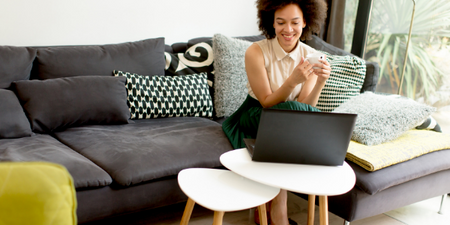 Your Brand
Don't keep your brand's definition in your head, it's way too easy to stray this way. Define it. Write it down. Share it with those who work with you and for you, so they know how to represent you, too.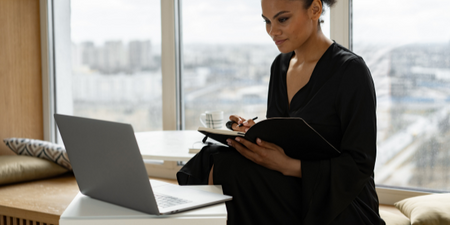 Your Plan
What are you selling? Who are you selling it to? How are you going to sell it to them? Questions that need answers…
Your Time
Let's look at how you spend your time and when you are most productive.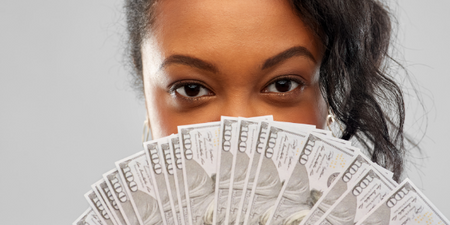 Your money
Making it. Counting it. Spending it. Saving it. Growing it.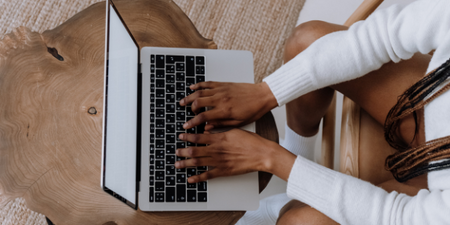 Your Work
Your services and products, processes, workflows and boundaries.
the biz organizeher™ reviews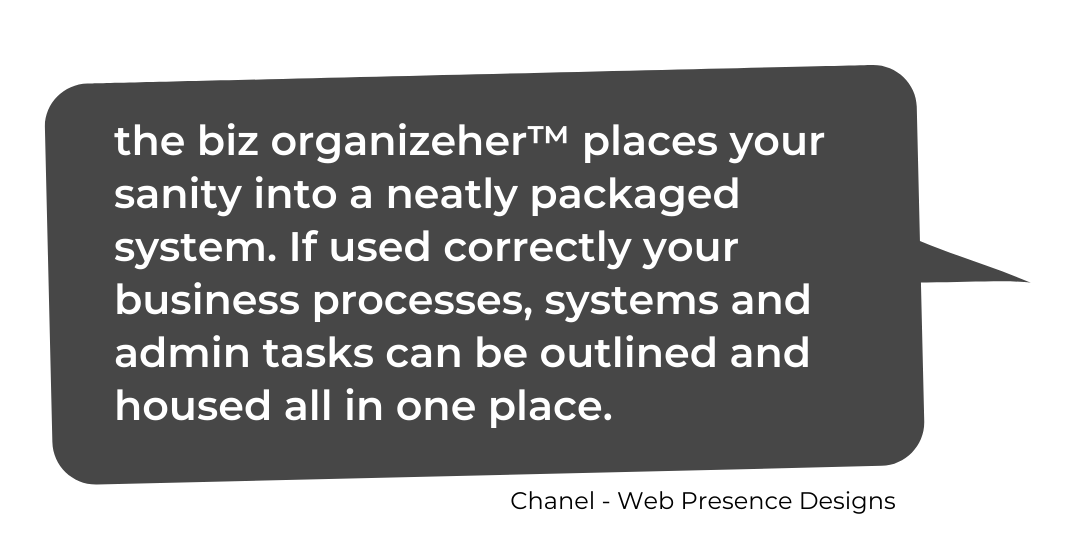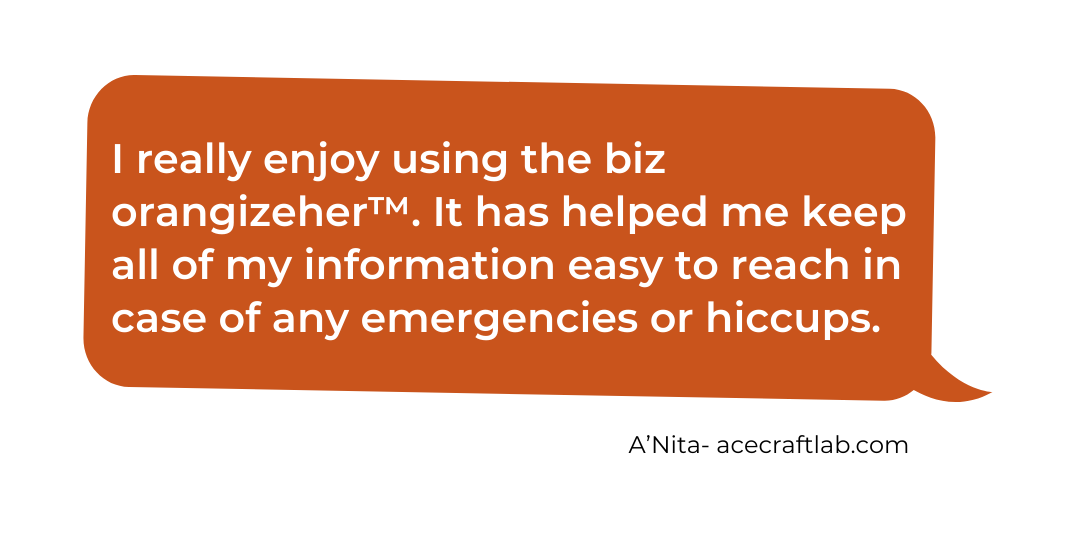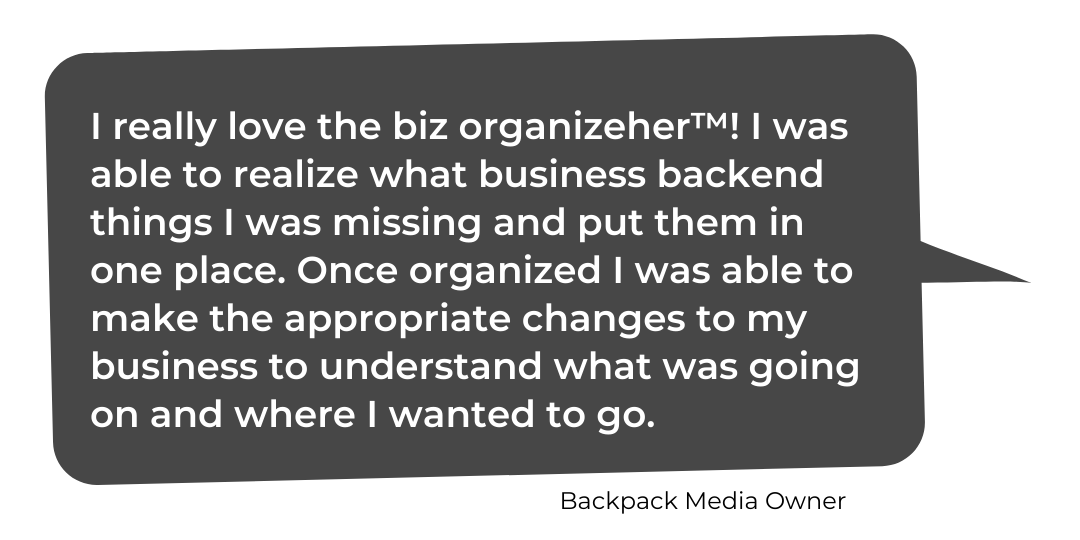 $1,200
or 3 payments of $450 each
FAQs
frequently asked questions | questions that need answers
How long do I have access?
You have access to modules and materials as long as tbobc is hosted online. You'll be able to refer back to lessons and modules as needed.
Unless otherwise noted you'll get boot camp program updates as well.
Hotline access is for the term offered when you enroll.
Can I choose where to start?
Modules are release progressively, meaning when you finish the first section, it opens the next. 
The order is deliberate, as each one builds on the next.
That's the long way of me saying, "you can choose what you work on and when, but it may throw your experience out of whack".
I don't know if I have the time for this. How much time to I need to dedicate to this?
I suggest scheduling 15 minute to an hour per week to work on a section, but ultimately, how much time you assign to making the transformation to a more organized business is up to you.
How do I know if I am ready?
If you are literally in the position of losing your business or your sanity right now, AND you are not willing to make changes, then you are DEFINITELY NOT READY for the biz organizeher™ digital boot camp.
If you have not decided on what you will be selling, you may not be ready for the biz organizeher™ digital boot camp.
If you are not willing to consume the material, do the exercises, show up for calls, and/or use support channels, you are not ready.
Otherwise? You're ready, and you'll have support as you move through the material.
What is Pilot Pricing?
Pilot Pricing is a special rate for being enrolled in the first run of the program.
Some parts of the program may be added or adjusted based on participant feedback and progress.
Is there a payment plan?
You may choose a 3 month payment plan at $400 per month.
Modules will open to you 2 per month.
Can I just do one module?
Technically, yes. However, this is an ecosystem of masterclasses; each of them work with and off of each other so they are bundled.
It's like just giving you a plate of veggies when you also need a protein, starch and dessert.
$1,200
or 3 payments of $450 each
USER'S PERSONAL RESPONSIBILITY
By using this Website, you accept personal responsibility for the results of your actions. You agree to take full responsibility for any harm or damage you suffer as a result of the use, or non-use, of the information available on this Website and in the Resources. You agree to use judgment and conduct due diligence before taking any action or implementing any plan or policy suggested or recommended on this Website or in the Resources.
EARNINGS DISCLAIMER
From time to time, the Company may report on the success of one of its existing or prior clients/customers. The information about this success is accurately portrayed by the Company. You acknowledge that the prior success of others does not guarantee your success.
As with any business, your results may vary and will be based on your individual capacity, business experience, expertise, and level of desire. There are no guarantees concerning the level of success you may experience. There is no guarantee that you will make any income at all and you accept the risk that the earnings and income statements differ by individual. Each individual's success depends on his or her background, dedication, desire and motivation.
The use of our information, products and services should be based on your own due diligence and you agree that the Company is not liable for any success or failure of your business that is directly or indirectly related to the purchase and use of our information, products, and services reviewed or advertised on this Website.
TESTIMONIALS
At various places on this Website, you may find testimonials from clients and customers of the products and services offered on this Website or by the Company. The testimonials are actual statements made by clients and/or customers and have been truthfully conveyed on this Website.
Although these testimonials are truthful statements about results obtained by these clients and/or customers, the results obtained by these clients and/or customers are not necessarily typical. You specifically recognize and agree that the testimonials are not a guarantee of results that you or anyone else will obtain by using any products or services offered on this Website or by the Company.
NO GUARANTEES
You agree that the Company has not made any guarantees about the results of taking any action, whether recommended on this Website or not. The Company provides educational and informational resources that are intended to help users of this website succeed in life, business, and otherwise. You nevertheless recognize that your ultimate success or failure will be the result of your own efforts, your particular situation, and innumerable other circumstances beyond the control and/or knowledge of the Company.
You also recognize that prior results do not guarantee a similar outcome. Thus, the results obtained by others, whether clients or customers of the Company or otherwise, applying the principles set out in this Website are no guarantee that you or any other person or entity will be able to obtain similar results.